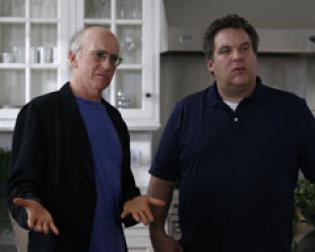 The overall plot line of season three of Curb Your Enthusiasm centered around Larry and Jeff investing in a swank new restaurant with Ted Danson and Michael York.
But, of course anything involving Larry David couldn't go off without a hitch without plenty of neurosis leading to some ridiculius situations.
Along the way to the opening there were terrorist threats, nannies fired, manger scenes destroyed, and, of course, unburrying and the moving of his mother's remains. Only on Curb.
To Read More Click Here.