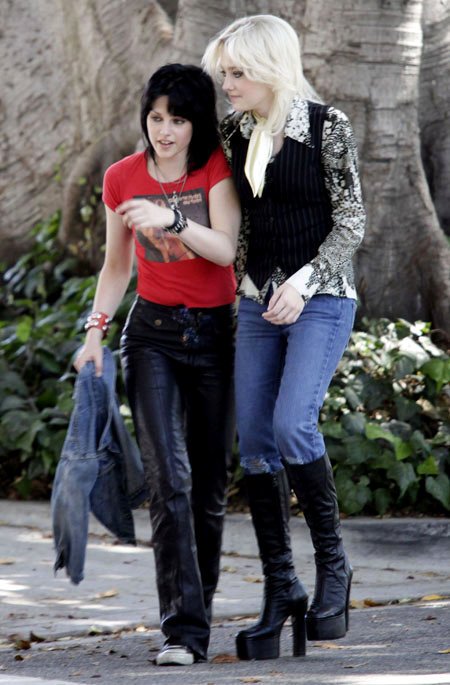 Kristen Stewart and Dakota Fanning are currently involved in the principal photography of "The Runaways", portraying their rock 'n' roll characters, Joan Jett and Cherie Currie. On Wednesday, July 1, the two leading actresses were spotted jumping on a car and kicking over a garbage can on the set during the shooting.
Both of the starlets were dressed in the full '80s gear. Black-haired Stewart was seen sporting leather pants and her co-star Fanning was captured wearing platform boots. This is the first time Fanning was spotted as Currie. The set photos posted below are outed by Just Jared and were taken from the movie's Los Angeles set Wednesday, July 1.
On "The Runaways" related news, rumor has it Jett had pushed Stewart to the breaking point. Reportedly, the legendary rocker wanted the 19-year-old actress to improve her performance and gave the star of "The Twilight Saga's New Moon" a hard time that made Stewart broke down in tears.
"Joan just wants Kristen to play an authentic version of herself, so she needled her a little bit too much," so a source told The New York Daily News. "But she apologized when she realized how upset Kristen got." Stewart herself has acknowledged how hard it is to depict a real person, saying "It's one of the most immense responsibilities to play a real person. Her story's important. It's an incredibly triumphant feminist story really."
"The Runaways" centers its story around a '70s girl band of the same name formed by Joan Jett and Cherie Currie. The movie will follow the teenage band as they experience meteoric rise, and chronicle their dissolution and disillusionment. Jett herself will serve as the film's executive producer and Floria Sigismondi will direct in addition to penning the script. Scout Taylor-Compton secured the role of guitar icon Lita Ford and Stella Maeve is touted to star as Sandy West.