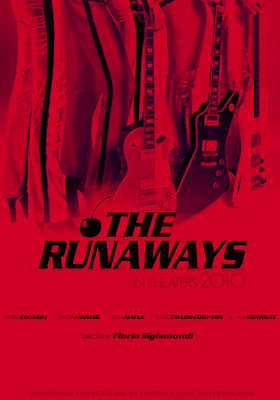 Just Jared Jr. has got its hand on the first teaser poster for biopic "The Runaways". Using red as the major color, the one-sheet does not give a look at any of the characters but shows legs of the band members and three guitars. Additionally, based on the image, it is known that the film still has no exact release date as it only mentions the movie will hit theaters in 2010.
"The Runaways" is based on the 1970s all-girl rock band of the same name, which were brought together in late 1975 by impresario Kim Fowley. Being expected to be an easy sell with a novelty act of teenaged girls performing in leather and lace, the girls ended up proving to be serious and influential musicians with songs like "Cherry Bomb." The band lasted about four years together, falling apart over management and money issues.
The film itself will cover the formation of The Runaways through to Cherie Currie's departure at the peak of their success. Kristen Stewart and Dakota Fanning will be seen taking the roles of Joan Jett and Cherie respectively. Additionally, Scout Taylor-Compton, Stella Maeve, and Alia Shawkat are also among the cast ensemble. Being listed as one of the movies in 2010 Sundance non-competition line-up, the film will be premiered during the festival which runs January 21-31, 2010.
Update Dec 14: The Runaways poster that has been making its way around the internet since December 5th is not an official poster for the upcoming movie starring Kristen Stewart and Dakota Fanning, it is also not a "fan-made graphic".