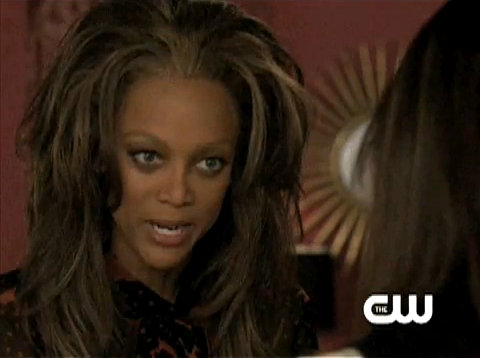 Tyra Banks' acting chop on "Gossip Girl" is available to watch through the sneak peek given by The CW. Just as reported a few months ago, the supermodel is taking the role of a movie actress who is very much a diva. She gets out of the dressing room not pleased because she is surrounded by "amateurs".
Ursula, according to the "Dan de Fleurette" synopsis, will be someone Serena befriends. Serena in fact will be in charge to be her publicist. Ursula is also a co-star of Olivia Burke, the role taken by recurring cast Hilary Duff. Both movie stars are coming to the Upper East Side to attend their movie's premiere but Olivia has a bigger plan which is enrolling in NYU as a normal college girl.
"Dan de Fleurette" also follows Jenny's attempt to replace Blair as the new Queen Bee of Constance Billard. Unfortunately for her, Blair is more than happy to intervene when news reaches her that she may be needed back at the school. In the other clip released by The CW, Chuck gives Jenny words of encouragement to go on with the plan reigning Constance.