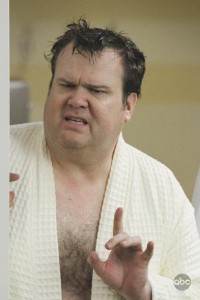 There appears to be some confusion over the ordering of episodes for Modern Family, as ABC switched the air date of two episodes. I had originally posted that Chazz Palminteri would be guest starring on the January 13 episode (and posted photos). I've since learned that that episode will air on January 20. Hope that clears things up.
ABC has now released promo hotos for the January 27 episode, which will feature Minnie Driver as a guest star. The show is getting a lot of pretty decent guest stars in its first season, isn't it? Check out the photos and a synopsis below.
JAY AND CLAIRE ARE EACH THROWN OFF THEIR GAME BY SOME UNEXPECTED ENCOUNTERS, ON ABC'S "MODERN FAMILY"
To Read More Click here.