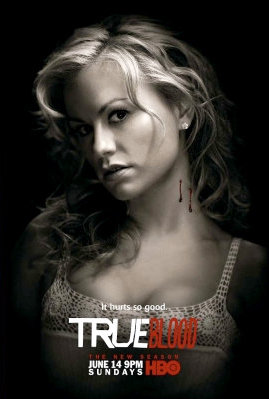 One month away from the season 2 premiere, "True Blood" is going full throttle with its promotion. A bunch of character posters are released, showing where the blood is spilled. All the posters are focused on the main characters of the first season, topped up with the new character, Maryann, whose secret with Sam and relationship with Tara will be exposed largely in the new season.
Noticeably missing from the line-up are Nelsan Ellis who plays Lafayette and Deborah Ann Woll who plays the newbie vampire Jessica. Nelsan's absence from the promotional efforts leads to the speculation that he was the one who died in the season 1's cliffhanger. Jessica, meanwhile, could be the recurring character whose presence is not as big as Maryann's. But she will be one of the reasons of Sookie and Bill's cracked relationship.
The second season begins sucking on HBO on June 14 with the episode "Nothing But the Blood". Sookie is employed by Dallas vampires to use her telepathy to help find their lost companion. Sookie agrees to help investigate the whereabouts of the missing vampire on one condition: any humans found to be involved must be turned over to human law enforcement rather than subjected to vampire justice.