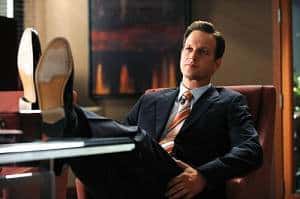 The second season of The Good Wife premieres on September 28 (see photos from the season premiere) and now CBS has released photos and a synopsis for the October 5 new episode.
IT'S A BATTLE OF WITS BETWEEN ALICIA AND CARY DURING THE TRIAL OF AN ARMY RESERVIST ACCUSED OF MURDERING HIS WIFE, ON THE GOOD WIFE, TUESDAY, OCT. 5
Television and Radio Host Lou Dobbs Guest Stars as Himself
Double Jeopardy - Cary tries to stack the deck against Alicia during the trial of an Army reservist accused of murdering his wife. Meanwhile, Childs resorts to dirty tricks in an effort to mar Peter's campaign, on THE GOOD WIFE, Tuesday, Oct. 5 (10:00-11:00 PM, ET/PT) on the CBS Television Network. Television and Radio Host Lou Dobbs guest stars as himself.
To Read More Click Here.