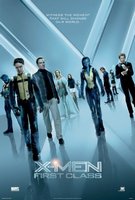 Soon after rounding up the main cast, "X-Men: First Class" has entered production in England. XMF reported that the movie commenced the principal photography late August at Pinewood Studios and surrounding locales in the country.
The site further informed that the first scenes being filmed see [SPOILER ALERT!] "Charles Xavier attending Oxford University [and] debating the mutant phenomenon, and Erik Lensherr dealing with the horrifying events in Auschwitz via a flashback sequence."
Later, during last weekend the movie was said shooting in the old Kingsway Tram Station in the Holborn area of London. Comic Book Movie (CBM) got a snap from outside of the filming location but there is not much that can be seen since the filming seemingly took place inside the massive underground area that leads to the dissused Aldwych Tube Station.
To Read More Click Here.