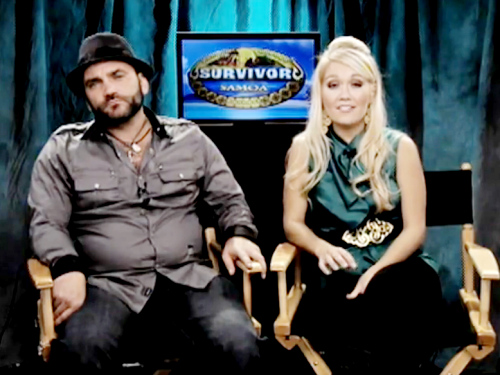 Natalie White, the just-crowned "Survivor" winner, sat down to answer some questions from fans regarding the aftermath of her victory. Sitting next to her and also answering questions was runner-up Russell Hantz who was originally touted to be the winner of the "Samoa" edition.
"I'm so kind of in shock and definitely has not sunk in yet," Natalie said when asked whether she was surprised of being voted the winner on the Sunday, December 20 finale. "... I was so excited when I heard my name." Regarding her reaction to Shambo coming down hard on her during the jury vote, Natalie said, "She and I are great friends on the island. We truly were. I was probably the most shocked about her. Definitely took me off guard. [But] we've talked about it, she apologized. No biggie."
Russell took the turn, answering the question whether he did something wrong. To this he said, "I don't think I made any mistake. I don't regret anything I did in the game. I made it all the way to the end, I brought Foa Foa from eight to four, all the way to the final five. All my strategy played. Every time I did something great, they would be telling me, 'That is the biggest move in history'. ...But when it all came down to it, they couldn't get pass being stabbed in the back in the game."
To Read More Click Here.