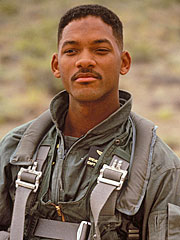 Will Smith's battle to save the world from aliens in hit movie "Independence Day" has been voted America's favorite Fourth of July movie moment in an online poll. The 41-year-old actor played a fighter pilot, named Captain Steven 'Steve' Hiller, who flew a fearless mission to plant a nuclear bomb on a hostile spaceship in the 1996 movie.
And as the U.S. prepares to celebrate its independence on Sunday, 49 per cent of visitors to WENN poll have voted the scene their favorite, trumping a host of patriotic movie moments.
Sylvester Stallone's triumphant battle with brawler Apollo Creed in the first "Rocky" movie came in second, followed by the prison camp Fourth of July party scene from 1963 Steve McQueen - starring classic "The Great Escape".