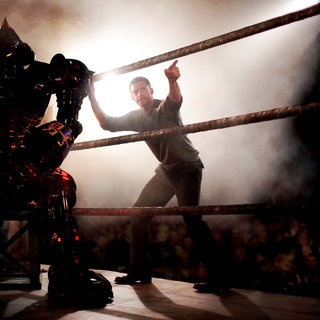 Several brand new pictures from the production of "Real Steel" have hit the web. Making their way out via Coming Soon, the photos reveal the set which is built in the GM Renaissance Center in Detroit, Michigan.
Source Blake Almstead who notices the construction of the robot boxing arena reports that cast and crew have wrapped shooting "Hugh Jackman's boxing gym and are about to film in the GM headquarters." The source adds, "They are installing the signage to make it look like the lobby and open area of the Renaissance Center is the home to a giant robot boxing arena."
Several banners which feature World Robot Boxing logo are hung on some spots in the building, affirming that the venue is used as the filming location. Unfortunately, there is no cast member or a robot captured in these set pictures.
To Read More Click Here.