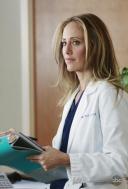 Grey's Anatomy is off until three weeks from tonight, April 29. We're 19 episode into the current Season 6, with 24 slated for release in all. By our calculations, that leaves April 29, May 6, May 13, and the two-hour season finale game changer May 20.
It's been and up and down season, both for the characters we love and for the fans of ABC's long-running medical drama. Are you happy with where we stand? What surprises and developments do you think are in store for us come late April and May?
To Read More Click Here.