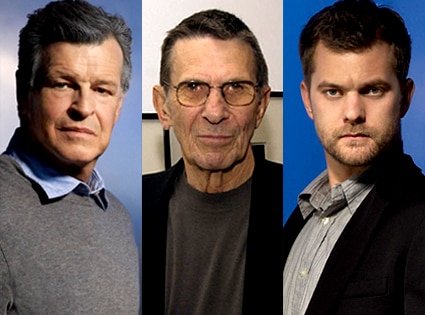 Love this! Sources confirm that Leonard Nimoy is guesting as William Bell on the season finale of Fringe , the much-discussed but heretofore unseen Massive Dynamic mogul.
And what does he do in that finale?
Well, for one thing, he sets up what will reportedly be a major recurring role next season.
Also, as we've been reporting, in the coming weeks we'll be getting answers about the experiments on Olivia as a child, Peter's "medical condition" and what the Pattern means for Olivia and the Bishops on a personal level. No doubt, it's all tied together, and it all ties back to William Bell and Walter Bishop, who were mad-scientist buddies together back in the day.
Nimoy himself, of course, has become a buddy of the Bad Robot boys over the processing of that big-deal, big-buzz Star Trek remake.
No one's confirming this yet, but if everyone involved has any sense whatsoever, they will live by the words of another Star Trek bridge officer and "Make it so."