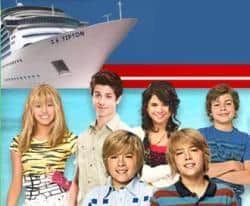 It's some major crossover event on the Disney Channel, when three of their hit series team up for a contest that fans will surely delight in. Wizards of Waverly Place, The Suite Life On Deck, and Hannah Montana are joining forces to bring forth the "Wizards on Deck with Hannah Montana" sweepstakes.
From July 12 to Thursday, July 16, the network will be airing sneak peeks of the much awaited event at 8pm. Audiences can take part in the scavenger hunt, which is open to kids aged 6 to 16.
There's a list of special items that participants need to look for when joining the "Wizards on Deck with Hannah Montana" sweepstakes. These can be seen in the nightly sneak previews of the upcoming show.
Those who wish to take part in the game should keep an eye on how the pieces on the list are used in the clips. The next step is to log in here to register and play the Scavenger Hunt Challenge.
The episode on Sunday had fans looking for an orange life vest, followed this week by a comb, lip gloss, a blood pressure cuff and a vial of blue dye. The last object on the list is a bunch of roses. Once all the items on the list are found, fans can get a chance to enter the sweepstakes and win great prizes. These include three wizard wands, an anklet from Hannah Montana, and a life preserver from the S.S. Tipton.
The special "Wizards on Deck with Hannah Montana" will premiere on Friday, July 17 at 8pm. Don't miss your favorite Disney celebrities come together for this remarkable event.
The deadline for entries to the contest is on July 20, while the announcement of results will be on August 19. Winners will be selected randomly, so anyone has a shot at victory.