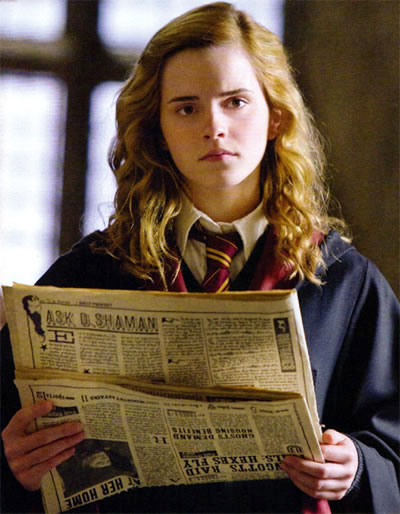 MTV has teased on what to expect from the exclusive new looks at "Harry Potter and the Half-Blood Prince" in its quarterly movie show, "Spoilers". Providing information on the footage to be previewed, the network claimed to bring details about the extra scene added to the movie in an exclusive visit to the U.K. set of "Half-Blood Prince".
The set visit will also unravel director David Yates and three of the movie series' stars, Daniel Radcliffe, Rupert Grint and Emma Watson, commenting on the film's much darker theme. In addition to that, Jessie Cave, the actress who plays Lavender Brown, will share on her unrehearsed kiss with Grint, and an "important scene at the end on top of the Hogwarts castle ramparts" will also uncovered.
MTV's "Spoilers" will be aired on Saturday, February 21. Starting at 8:00 P.M. EST, the show focusing on the upcoming "Watchmen" will also give away a look into other movies, like "Star Trek", "Transformers: Revenge of the Fallen" and "Land of the Lost", apart from the "Half-Blood Prince" footage.
On a "Harry Potter and the Deathly Hallows" related news, Emma Watson's official site broke out that the 18-year-old actress, who portrays Hermione Granger in the series, will start filming the seventh "Harry Potter" film on Thursday, February 19. Previously, Watson confessed that she is nervous about the impending kissing scene between Ron Weasley and Hermione Granger, saying "I've never had to kiss anyone on screen so it is all new to me. Of course I am nervous about it."
"Harry Potter and the Half-Blood Prince" is directed by David Yates and starred by Daniel Radcliffe, Rupert Grint, Emma Watson, Bonnie Wright, Robbie Coltrane, Michael Gambon, Alan Rickman and many others. The action fantasy movie from the J.K. Rowling's novel series will hit U.K. and U.S. theaters simultaneously on July 17, while "Harry Potter and the Deathly Hallows: Part I" is due for November 19, 2010 U.S. and U.K. release.