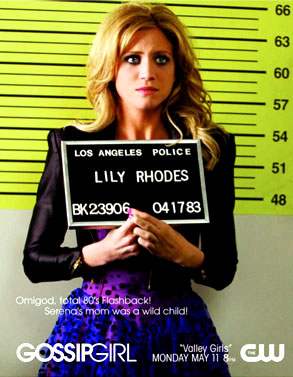 Despite the popularity of "Gossip Girl", the spin-off is unable to penetrate The CW's seal of approval. During the Television Critics Association press tour in Pasadena, the network's president Dawn Ostroff explained that the new show is not exactly axed but "not right now. It doesn't look like it's likely." The show, which is starring Brittany Snow as young Lily van der Woodsen, had been excluded from the Fall 2009 list.
Ostroff was more firm in determining the fate of "The Body Politic", a drama starring Brian Austin Green and Minka Kelly among others. "It's dead," she said. "I've never been in a situation where literally every pilot we shot this year could have made it on the schedule. We had a really difficult time deciding what was going to fit on the network. ...As much as we all loved Body Politic, we just didn't go with it. And I think the show hasn't been seen really by anybody because it was just a pilot, but the actors, the producers, the writers - they did a really good job."
The network, instead, is rooting on two of its old shows "Supernatural" and "Smallville". Speaking of the former she said, "Eric Kripke's done a great job with the show creatively. The show has gotten stronger every year. The cast is wonderful, so we're hopeful that it will stay on the air for a long time." Ostroff also liked the idea of including Zod as the new villain in "Smallville" which has been running for 8 years. "I do think that the show still has a lot of life left in it," she said. "The cast is very excited, as are the producers, so we have high hopes for it staying on the air for a while."