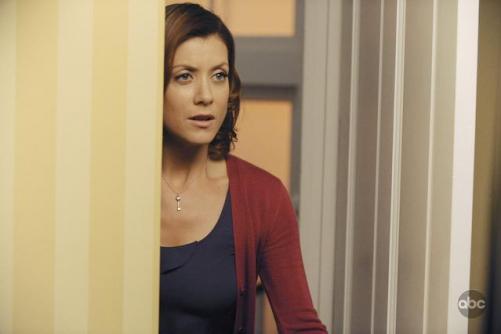 Private Practice aired back-to-back episodes last night, and while one primary story arc - involving Addison's parents - continued throughout, they were very different.
In the first hour, Sam and Naomi's parenting struggles actually brought them closer together, while in the second, Dell's world was turned upside down by Heather.
As the second hour begins, we see that Dell and Heather are living together ... but not for long. Their house blows up and Heather is on the brink of death.
Betsey is unconscious and Heather's badly burned from the explosion. Dell's little girl is going to be fine, but her mom isn't. When Dell learns why the house blew up?
Let's just say he loses control and rightfully so. But going in and telling Heather - who was cooking meth at home - that he hopes she dies slowly and painfully? Wow.
Bitterness and guilt aside, Dell doesn't want Betsey's last memories of her mom to be a mangled mess. Pete tries to bring Betsey to Heather, and Dell lays him out!
In a moving scene, Pete says "he" forgives her as she slips away, so delirious from the pain meds that she thinks he's Dell and apologizes profusely for what she did.
Violet finally talks Dell into showing mercy, but Heather dies just as he comes to see her. Addison convinces Dell to tell Betsey the truth ... no matter how bad it hurts.
Addison's drawing from personal experience there. She wishes she'd known ... that her mother's been having a lesbian affair with her assistant for the last 20 years!
She catches both women in a kiss after they arrive in L.A., and is so stunned that she can't face them, spending the episode holed up at Sam's. It's pathetic and sad.
Sam sends her family away so Addison can go back to being herself. In the end, Addison shows up at the airport to see them off, and can only make WASPy small talk.
We can't decide if we feel bad for Addison for being lied to all this time or whether she was being too mopey, especially considering the events Dell was dealing with.
Meanwhile, Charlotte and Cooper are still fighting about her lying (through omission) about being married more. She thinks she was protecting him by lying ... is she?
Is her not mentioning that she was married that big a deal? On the flip side, why wouldn't she mention it? Doesn't it become a bigger deal because she withheld it?
Cooper still hasn't let it go by the end, but perhaps Charlotte's passionate plea for forgiveness will give him a little bit of a nudge. Drop it, Coop. Time to let it go, dog.
Chris Lowell really shined in this two-part event, as did Taye Diggs, in our opinion. Not perfect Private Practice, but we were pretty invested in it throughout the night!