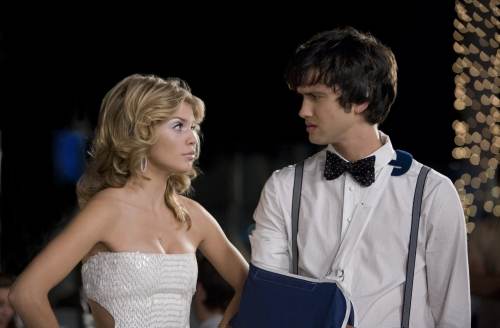 Did the last 90210 for 2009 deliver? Frak yea it did!!!! Oh and if anyone wants to start a We Hate Jasper fan club, please feel free to hit me up?!?!? OK? Onto the recap!!!
The Set Up
The school is abuzz with the Winter Wonderland dance being around the corner to the point where ballerinas dressed in white are passing out notices in the shape of snowflakes. But Annie's over the whole dance thing and tells Jasper that her love for dress up is a thing of the past. But deep down, you can see she still wants to go. Later, Naomi catches up with Annie and gives a heartfelt apology to her. But when Naomi mentions thinking about what she put Annie through, Annie finishes the sentence for Naomi with one word: "Hell". Seems like Annie is not ready to reconcile just yet.
Navid wants justice and needs concrete evidence to send Jasper up the river. He enlists Lila (guest star Rumor Willis) to find something to help in his tirade crusade.
Teddy steps up to the plate and goes to bat for the affections of Silver, who is preoccupied with getting sponsors for Ford's Warriors in Pink charity for breast cancer. He asks her out and Silver shoots him down, thinking that Teddy wants to take her to the dance, but leave with someone else. She leaves him with a form for sponsorship and a broken ego.
Ivy makes it known that she thinks dances are stupid, but says that she, Liam, and Teddy should go just to see what the fuss is about. Sure, Ivy. Sure. Liam spots Naomi and goes to talk to her, but doesn't expect the smackdown she gives him. Naomi lets Liam know that at first she was thankful of him for revealing Jen's true face, but she asks the question that has been on every fan since the start of the season: why did he wait so long to tell her? Despite her icy demeanor for the past few months, Liam had plenty of opportunities to tell Naomi the truth. He argues that he thought Naomi would believe Jen over him, but Naomi simply tells Liam that she doesn't get it and walks off. I don't get it either, Liam.
To Read More Click Here.