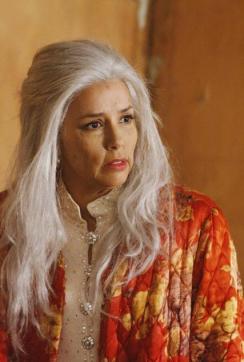 When Desperate Housewives returns on January 3, the residents of Wisteria Lane are dealing with the fallout from this month's plane crash.
Who is dead? Who is paralyzed? We have those answers right here and now.
But what becomes of those left standing after the accident? They peer into the future, imagining what their lives could have been if they had made different choices. For example:
* Bree contemplates a world without Orson;
* Lynette considers a future with her unborn twins.
* Carlos reflects on an older Gabrielle;
* Angie worries about the consequences if her family secrets are revealed.
All these scenarios will actually play out on the episode "If..." Below, we've got a look at an imagined, elderly Gabrielle; as well as Angie's possible, jail-bound future: