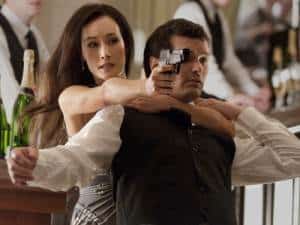 For three consecutive years, Warner Brothers has kicked off Comic Con's Preview Night with highly anticipated screenings of its new programs. In the past, they've screened shows such as Fringe and The Vampire Diaries. This year, The CW's newest fall series, Nikita, was premiered.
A re-imagining of the 1990's series, La Femme Nikita, the new CW show stars Maggie Q in the title role of the betrayed female assassin. Shane West, Lyndsy Fonseca, Xander Berkley and Melinda Clarke round out the cast.
Nikita was a young girl who ended up on the wrong side of the law. Plucked from a prison cell, she was given the opportunity to serve her country by killing for a mysterious government agency known as Division. Years later, she escaped after Division betrayed her. Now, she's working to tear down her former employer. West, Berkley and Clarke play various members of the Division agency, who are hell bent on taking Nikita down before she can expose or destroy them. Fonseca plays a young girl recruited by the agency, much like Nikita was before her.
To Read More Click Here.