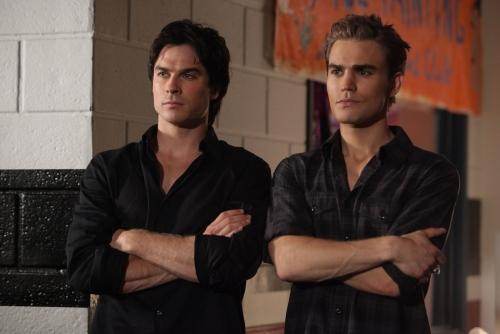 This week's episode of The Vampire Diaries focuses on two characters learning more about who they are. Tyler starts to realize that Mason isn't just visiting to help around the house, but that the two are connected by something within them. And poor Caroline learns who she has become and only begins her struggle with her new role in the world.
The episode starts off with a disoriented Caroline tempted by an overwhelming smell - the scent of blood. As she steals a bag of it and starts drinking away, she's soon horrified before continuing to suck it down. Once the sun starts shining into her room, she finds that the light causes immediate pain on her skin. As she's figuring things out, her boyfriend Matt stops by, but soon notices that something is up. When he finally leaves the hunger consumes her and Caroline immediately grabs hold of the nurse. Luckily Caroline realizes the power of compulsion. So after a few bites, some bandages to cover the wound, and a made up story for the injury, Caroline is on her way to the town carnival.
To Read More Click Here.