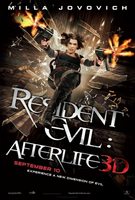 Sony Pictures has given away a new sneak peek to "Resident Evil: Afterlife" by debuting a TV spot. Though it is short, the snippet shares a lot of never-before-seen scenes which give a look at what is faced by Milla Jovovich's Alice as she fights Umbrella Corporation.
In a world ravaged by a virus infection, turning its victims into the Undead, Alice continues on her journey to find survivors and lead them to safety. Her deadly battle with the Umbrella Corporation reaches new heights, but Alice gets some unexpected help from an old friend.
To Read More Click Here.