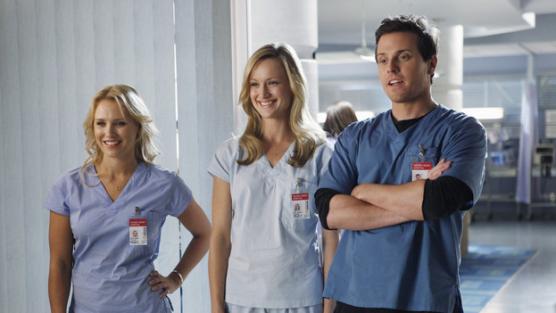 It's weird, but saying goodbye to Scrubs for the third time was not nearly as hard as the first two times. And that's not to say we haven't been enjoying season nine, aka Scrubs med school, because once this series reboot found its stride, it's been good.
We don't want to think of "Our Thanks" as a series finale since it wasn't written as one and Scrubs already had its perfect finale last season with "My Finale." Instead we're going to review the episode as if it were any plain old episode in the season.
For starts, Cole has absolutely turned around as a character for us after he showed his human side last week. We actually genuinely like him now as a character and loved his plot line with Turk.
Seeing Turk sruggle with this "douche" trying to be his protege, only to have Cox compare it to his relationship with J.D. was perfection. Though Cole will never be as likable as our favorite man child that's powered by hugs, he still could have had a great relationship with Turk over the years. Too bad that ain't gonna happen.
To Read More Click Here.