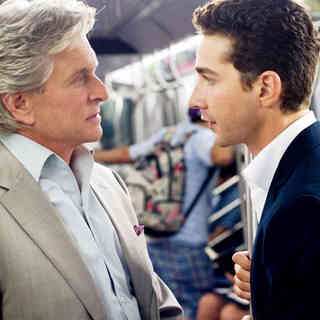 20th Century Fox has unleashed a brand new international trailer for "Wall Street 2: Money Never Sleeps", coming out with new footage during almost the whole video. Giving a look at Shia LaBeouf's Jake "Jacob" Moore who meets Michael Douglas' Gordon Gekko for the first time, the snippet additionally manages to explain more about the film's storyline compared to the previously released teaser.
A sequel to 1987 Academy Award winner "Wall Street", the upcoming movie is set 23 years after the first film. After his initial attempts to warn Wall Street of the forthcoming economic downturn and stock market crash receives no response, Gordon decides to re-focus his attention on rebuilding his relationship with his estranged daughter, Winnie.
In the meantime, Winnie's fiance Jacob seeks revenge for the death of his mentor. He suspects his hedge fund manager of being involved in the death. Thus, he agrees to team up with Gordon. In return, Jacob will help Gordon with Winnie.
Carey Mulligan takes the role of Winnie, Jacob's fiancee as well as Gekko's daughter. Additionally, Josh Brolin and Susan Sarandon are also cast to portray Jacob's hedge fund manager Bretton James and Jacob's mother Sylvia Moore respectively. Coming from Oliver Stone, this crime drama is scheduled to hit U.S. theaters on April 23.