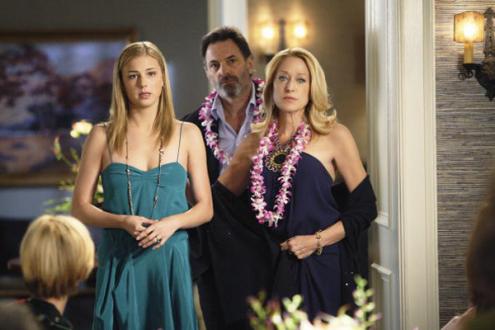 The drama that has been building for weeks Brothers & Sisters, along with the title of last night's episode, foreshadowed trouble for Justin and Rebecca's wedding.
Trouble there was, but not what you might have expected. Click here for a full recap of "Nearlyweds." Below, we've written a brief review of last night's episode ...
Nora apparently gets hosed by her younger boyfriend Simon, who said he needed $100,000 for his foundation, and for whatever reason, she goes along with it.
We're led to believe he skips town with her money. Maybe he didn't, but it really looks like Nora was conned, which makes very little sense to us. And here's why:
The Walkers analyze, argue, share and think about everything! Even last week, Sarah and Kevin raised doubts about Simon. Then last night she just cuts a check?!
Come on. She'd never do that without consulting Kevin and Sarah - and after what we saw last week, they'd flip out and never let her write it without a fight. Yeesh.
To Read More Click Here.