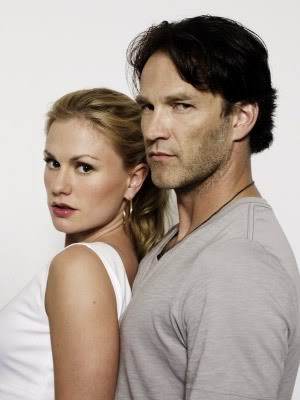 Here's what HBO has in store for TrueBlood fan's in August!
Episode #31: Hitting the Ground
Debut: SUNDAY, AUG. 1 (9:00-10:00 p.m. ET/PT)
Other HBO playdates: Aug. 1 (11:30 p.m.), 3 (11:30 p.m.), 4 (10:00 p.m.), 7 (midnight) and 16 (8:00 p.m.)
HBO2 playdates: Aug. 2 (8:00 p.m.), 5 (10:00 p.m.), 6 (11:55 p.m.) and 8 (3:00 p.m.)
Imperiled by Lorena (Mariana Klaveno), Sookie (Anna Paquin) goes to extremes in her attempt to save Bill (Stephen Moyer) – with unforeseen consequences. Sam (Sam Trammell) infiltrates a dogfighting ring to extricate Tommy (Marshall Allman) from his parents' (J. Smith Cameron, Cooper Huckabee) greedy influence. Jason (Ryan Kwanten) heads to jail to uncover the truth about Crystal (Lindsay Pulsipher); Summer (Melissa Rauch) makes a home-cooked play for Hoyt's (Jim Parrack) affections; Debbie (Brit Morgan) vows revenge on Alcide (Joe Manganiello); Eric (Alexander Skarsgård) uses Hadley (Lindsey Haun) as bait to get information from Sophie-Anne (Evan Rachel Wood); Russell (Denis O'Hare) turns his back on the Authority, and on the Magister (Zeljko Ivanek).
To Read More Click Here.