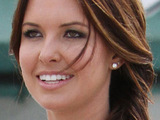 Audrina Patridge has said that she is "sad" at the end of The Hills but is ready to move on to other projects.
MTV recently confirmed that the upcoming sixth season of the Laguna Beach spinoff will be its last.
Speaking to MTV News, she said: "It's sad! We've been together for so long. I'm going to be 25 this year, so that's been my life for the last five years.
"It's sad to let go of that, because it's something that I've become so used to, and it's so easy and natural. But at the same time, it's nice to graduate, and I'm ready to move on and do the next big thing."
Patridge is currently working on her own reality show, which will focus on her personal and professional life in Hollywood.
The Hills returns to MTV from April 27.