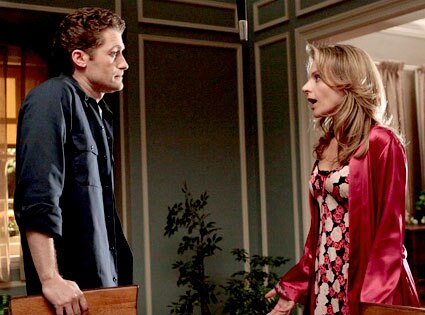 We hate to break it to you, but Glee has had us all fooled! If you're still under the impression that Fox's musical extravaganza is nothing more than fun-filled family entertainment, Jessalyn Gilsig (Terri) has some shocking news:
"Will is a whore."
Come again? Yes, Jessalyn is seriously serious and tells us that when Glee returns in April, we're going to see a less-than-flattering side of her former onscreen hubby. In fact, Mr. Schue (Matt Morrison) sounds downright dirty...
When asked which lucky lady Mr. Schue might be getting busy with, Jessalyn tells us, "Everybody."
A 'ho fo' sho'! (But a damn fine one.)
Since Matt and Jessalyn just told us about their rebooted love triangle - or lack thereof - we grilled her on the important things, like where's Terri's new man?
"It's all switching up," Jessalyn says with a laugh. "Terri was supposed to be so awful. But Terri was driven by love, and it turns out that Will is a whore. Lets just say Terri was right."
Right or not, Jessalyn teases that while Terri and Will are done for now, she's by no means finished with Emma (Jayma Mays). "You know Terri, can't keep her down! She's going to make some trouble. It's not over; it's never over - especially with that redhead," she laughs. "There's just no way I'm letting her go. Terri's going to stir this pot some more."
However, let the record show that we suggested Terri hook up with the always amazing Neil Patrick Harris (Ryan Murphy, are you reading this?!), and Jessalyn is 100 percent on board. "Oh, I like that! But Terri will kiss anyone." Fair enough.
To Read More Click Here.