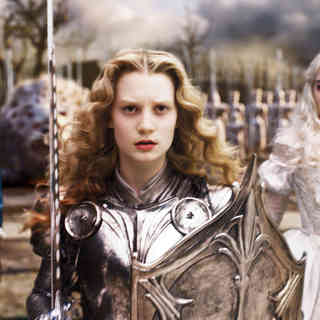 Following Avatar's long-term reign at North American Box Office, Alice in Wonderland (2010) has created new strong competition at the chart. Not only has it nabbed the champion title, this Tim Burton-directed movie has named itself the highest weekend grosser ever for a spring release with an estimated $116.3 million revenue.
For this achievement, Alice in Wonderland owes it to the 3-D technology. According to EW, 65% of its weekend gross on this Johnny Depp-starring film comes from 3-D screenings. This technology also proved profitable to another Box Office champion, Avatar. As IMAX Film Entertainment president Greg Foster said, "Momentum is clearly on the side of 3D. You have all the people who went to see 'Avatar' and loved it, and this was the next 3D movie. There is a 3D halo effect right now, and this movie builds on that."
Alice in Wonderland in fact creates quite a par between the first and second position. Fellow newcomer Brooklyn's Finest, the star-studded crime drama featuring Richard Gere, Ethan Hawke and Don Cheadle among others, only earns $13.5 million. Previous two-time Box Office champion, Shutter Island meanwhile, sits on the third position with $13.3 million.
Cop Out rakes in another $9.1 million, giving a total cume of $32.4 million. Highest-grossing movie of all time Avatar is placed fifth with $7.7 million to push its record cume to $720.2 million.
To Read More Click Here.