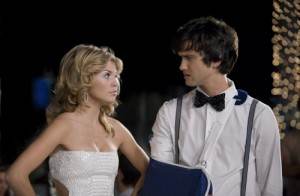 The CW will air a new episode of 90210 on December 8 and then will go on hiatus for the holidays. We have promo photos and a synopsis for you below. I'm seriously not digging Annie's dress. It's so plain. And what's up with Ivy's white outfit? Would it kill her to put on a dress? All that side, the synopsis makes it seem like some big secrets will come out and let's hope that's true. I'm tired of the Jen-Liam secret being dragged out. I would rather see Naomi bitch-slap her sister.
ANNIE'S HIT AND RUN SECRET IS REVEALED AT THE WEST BEVERLY WINTER DANCE
Navid (Michael Steger) is convinced Jasper (guest star Zach Sherman) pushed him down the stairs and turns to Adrianna (Jessica Lowndes) to help reveal the information. Annie (Shenae Grimes) is confronted by her friends about Jasper's drug dealing but when she confronts him about the news he reveals his suspicions about her involvement in the hit and run.
Naomi (AnnaLynne McCord) and Silver (Jessica Stroup) decide to spend Christmas break in St. Barts but first make an appearance at the beach club for the winter dance. Teddy (Trevor Donovan) reveals his feelings for Silver, causing Dixon (Tristan Wilds) to be jealous, while Naomi and Liam (Matt Lanter) attempt to forgive each other for what happened with Jen (Sara Foster, who does not appear in the episode).
Debbie (Lori Loughlin) attempts to spend some quality time with Dixon by taking him to the arcade. Rob Estes and Ryan Eggold also star.