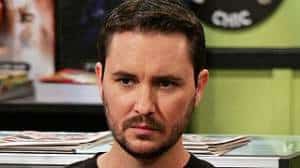 Sheldon and his nemesis, Evil Wil Wheaton, faced off for the second time this season, but "The Wheaton Recurrence" wasn't as funny as "The Creepy Candy Coating Corollary" because it was overshadowed by Leonard's heartbreak. The end of his relationship with Penny seemed inevitable after he told her "I love you" and she replied, "Thank you…Goodnight!"
The next day, Leonard was obviously upset, not wanting to take part in the guys' usual geeky conversation (this one about giant ants from the movie Them). Sheldon left when he thought Leonard might start talking about his feelings, while Raj and Howard attempted to figure out what had happened with Penny. The sad/scary thing was, their questions seemed to come from experience: "Did you pour maple syrup all over your body and ask her if she was in the mood for a short stack?…Did you think it would be funny to put on a pair of her panties and jump around but it wound up just creeping her out?…Did you ask her to start waxing?… Did you start waxing?…While making love did you accidentally spank your own ass and cry out 'Mommy!'? "
To Read More Click Here.