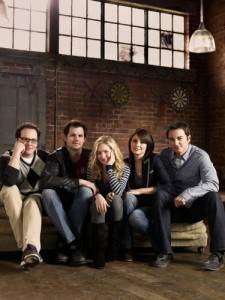 As previously announced, the CW would be premiering the new series, Life UneXpected, on January 18th. The network has now created a nearly 5 minute featurette that's primarily a sneak peek and contains scenes from the pilot episode, as well as introducing you to all of the characters.
As mentioned, I've watched the pilot episode and liked it, but Shiri Appleby doesn't look like she could be the mother of a 15 year old. She looks like she's perpetually 25 years old, which she is most definitely going to appreciate when she grows older. The newer cast photo below shows her with a shorter cut that makes her look older, so let's see whether the rest of you are convinced that she could be this young girl's mother.
After spending all of her 15 years bouncing from one foster family to another in Portland, Oregon, Lux (Britt Robertson, Swingtown) has decided it's time to take control of her life and become an emancipated minor. Her journey through the legal maze of emancipation leads Lux to her biological father, thirty-something Nate Baze Bazile (Kristoffer Polaha, Mad Men), who is astonished to learn that he has a teenage daughter. Baze owns a bar and still lives like an aging frat boy with his two slacker roommates, Math (Austin Basis, Life on Mars) and Jamie (Reggie Austin, The Starter Wife).
It's Lux's turn to be astonished when Baze reveals that her mother is Cate Cassidy (Shiri Appleby, E.R.), Baze's high school nemesis with whom he had a one-night stand. Cate is now a star on the local 'Morning Madness' radio show, along with her partner and fiance, Ryan Thomas (Kerr Smith, Eli Stone). Lux has been listening to Cate's voice on the radio as long as she can remember, so she feels an instant connection with the mom she's never met.
Baze takes Lux to meet Cate, who is guilt-ridden and saddened to learn that Lux has grown up in foster care, but happy to finally meet her beautiful daughter. Although it's been 15 years since Baze and Cate have seen each other, it doesn't take them long to fall into the same contentious relationship they had in high school. However, when a judge decides that Lux isn't ready for emancipation and unexpectedly grants temporary joint custody to Baze and Cate, they agree to try to get past the arguments and awkwardness and make a belated attempt to give Lux the family she deserves.