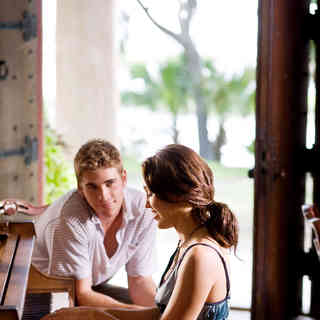 More sneak peeks at "The Last Song" are shared as Walt Disney Pictures has outed some new clips from the film. Beside sharing the romantic moment between Miley Cyrus and Liam Hemsworth, one of the snippets exposes Cyrus' on-screen parents, played by Greg Kinnear and Kelly Preston.
In the first video, Kinnear and Preston, who play a divorced couple in the film, are seen talking about Juliard. Meanwhile, another clip gives preview to Cyrus who shows her ability to play piano to Hemsworth. Later, the actor is shown taking his lover to his big home and introducing her to his mother in the other snippet.
In "The Last Song", Cyrus plays Veronica "Ronnie" Miller, who is described as a rebellious teenager. Living separately from their father Steve Miller since their parents got divorced, Ronnie and her brother Jonah Miller are later sent by their mother to spend the summer with their father in Tybee Island, the small Georgia beach town.
To Read More Click Here.