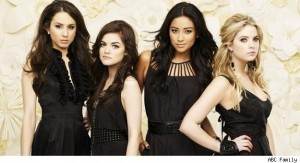 Pretty Little Liars was, hands-down, my favorite new show of the summer. Granted, I'm a little too interested in teenage shows than I probably should be at my age, but it had great mystery, good characters and a fun summer storyline. Unfortunately, the mid-season finale aired in the summer and we were left wondering when the show would return (I loathe long hiatuses don't you?)
Now ABC Family has confirmed that the second half of the first season of Pretty Little Liars will return on January 3, 2011.
Burbank, CA (October 12, 2010) - ABC Family will ring in the New Year with returning original hit series Pretty Little Liars on Monday, January 3, 2011 at 8:00PM.
To Read More Click Here.