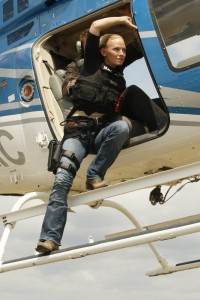 Raise your hand if you saw this episode title and the last verse of Harvey Danger's Flagpole Sitta popped into your head. Or is it just me?
Anyway, this episode sees the team on the trail of Faith Maples, who's played by Jennifer Morrison (also known as Allison Cameron on House, and the real-life girlfriend of Chase star Amaury Nolasco). She's downright nuts, killing people across the state of Texas (starting with her deadbeat boyfriend), and probably traumatizing her young daughter in the process. That kid's going to need therapy. Sporting a Texas accent, Morrison leaves Cameron well behind.
To Read More Click Here.