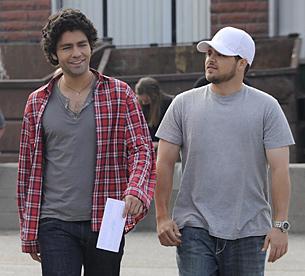 Following a season in which most episodes were based around noting more than the main characters sitting in a room and talking, we'd be happy with any interesting storyline on season seven of Entourage.
Set to premiere on HBO this spring, the show will reportedly offer up at least the following two premises:
1. Vince will start filming a new big-budget movie. He'll require a stunt coordinator to work with him on the action sequences and pyrotechnics.
2. Turtle will be in charge of a new business venture, which will require the hiring of a trio of sexy women, all of whom want to be cast in Vince's new film.
We'd have to imagine Eric and Sloane's engagement will also play a central role on the season.