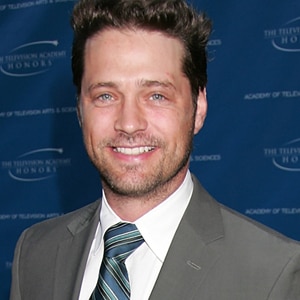 Jason Priestley returns to 90210 this week, and he shared exclusive dish with me about the dangerous scenes he'll be filming.
Who's in trouble, and where does Jason fit in?
Read on for that scoop, plus Ryan Eggold tells us what (or whom) Tori Spelling will be doing when she finally returns to West Beverly High...
In case you haven't heard, original Beverly Hills 90210 alum Priestley will be directing the 18th episode of the first season of CW's 90210. Jason has teased that the episode is "very ambitious, production wise," and a large-scale disaster may be heading for the world's most famous ZIP code.
A crisis will strike 90210 when Jason hits town to direct, and someone may not be so lucky in the aftermath. Jason says, "I have a lot of challenges ahead of me on how to shoot this, it's big."
Could it be a big crash scene, maybe an earthquake? "Yeah, we're in a hospital...a female ends up in the hospital."
If it's a female in the hospital, does that mean he'll be directing Adrianna (Jessica Lowndes) giving birth? "I can tell you that no one is giving birth. Boy that would be a preemie wouldn't it?"
As for Brandon's buddy Donna Martin, details on Tori's return have been kept quiet, but Ryan Eggold seems to know exactly what she'll be doing on the show. Says Ryan, "I will sleep with her within five minutes of that episode. I'm not even going to say hello; I'm just going to walk up and pull my clothes off." To be fair, he has hooked up with the other two alumnae (Shannen Doherty and Jennie Garth), so it's only right to make it a trifecta.
So now that Tori Spelling is coming back, would Jason consider making a guest appearance on the other side of the camera? Jason jokes, "Never say never, right?"
What do you think the disaster is? Should Eggold get action with every alumna? Hit the comments with your thoughts.