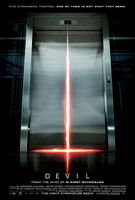 Universal Pictures has given away the first sneak peeks to "Devil" by releasing the first stills as well as first full trailer. Debuted by Apple, the video shares the intense scenes as several people are stuck in an elevator without knowing that one of them is the devil.
On one ordinary day, a group of people is trapped in a elevator of an office building. What it seems to be an accident turns out to be happening for a reason as they are threatened by the devil in disguise. Becoming suspicious to each other, they try to come out of the elevator.
To Read More Click Here.