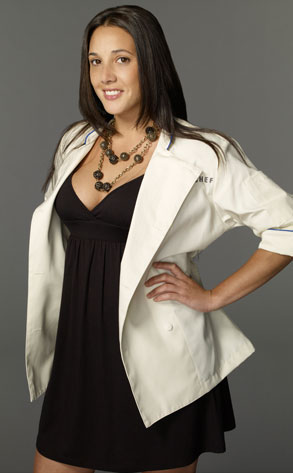 On last night's Top Chef, Leah Cohen was told to pack her knives and go home after judges got a taste of her basic brunch dish.
"Please!" Leah huffed about her elimination. "I've definitely been the 'brunch bitch' at restaurants and I've done eggs Benedict before. To have that be the downfall of the show for me was kind of, I thought, pathetic. It's eggs Benedict! People who don't know how to cook know how to make eggs Benedict. Whatever."
That's not all Leah had to tell me when I caught up with her earlier today. Keep reading to find out what her boyfriend thought about her kissing fellow cheftestant Hosea, why she thinks Toby Young is a "douchebag" and what she has planned for her restaurant's spring menu. Nope, not eggs Benedict''
What was it like being on Top Chef?
My experience was OK. I had a hard time when we were shooting it. I'm not the most competitive person, and I didn't realize how intense the show was going to be...And you're in this little bubble, and you have no interaction with the rest of the world, and you're told what to do all the time. I felt like a child again.
How do you think you came off after the editing was done?
I stopped watching the show when Toby Young came on. I didn't even watch that episode. I have my brother and all my friends give me updates. And I knew the whole Hosea thing was going to be played up, so I kind of just stopped watching it, because I just didn't like the direction it was going in.
Well, what did happen between you and Hosea?
We were really good friends and we kissed one night, that was pretty much it. What they showed on TV was really the extent of our relationship beyond the friendship that happened. And that was it. We hung out all the time. But I also hung out with Stefan all the time, and they didn't put that in at all. I was predominately with Hosea, Stefan and Fabio for the entire time. I didn't hang out with the girls that much.
Did you tell your boyfriend what happened?
When I got home, I told my boyfriend what happened, and then it was three months later when it came on the show. It wasn't forgotten, but it was, like, it happened, whatever.
What's next for you?
I'm trying to redo the menu for spring and hopefully make the restaurant (New York City's Centro Vinoteca) more successful than it already is.
Eggs Benedict on the menu?
It's not [laughs], but there is a poached egg on the menu which I purposely put on a few months ago so people know I could properly do a poached egg. I also put cod on the menu to show that I can properly cook fish, too.
Let's go back to Toby Young. What did you think of him as Gail's replacement?
Toby Young is a douchebag. He was just, like, whatever. He didn't bring much to the show. He didn't bring much to me as a judge like Gail. You valued her opinion. I thought his witty banter didn't do much for constructive criticism. My friends are like, "Who is this f--king douchebag?"