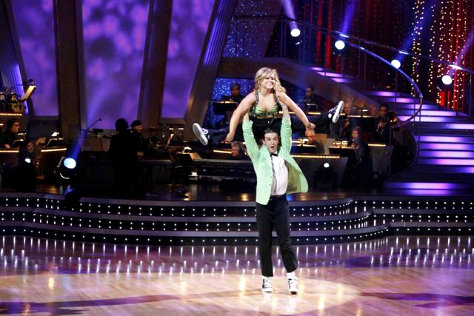 It's time to wrap up another season of "Dancing with the Stars" but first a couple will be crowned as the champion of the eight season. The three remaining stars, Gilles Marini, Shawn Johnson and Melissa Rycroft will perform their very last dance and the score will be added to Monday's total score and the audience vote on the night before.
To kick off the night, Lady GaGa was invited on stage to sing her "Just Dance" single. Then the fallen contestants in the season came back to reprise their dance. Belinda Carlisle took the floor first, followed by Denise Richards, Holly Madison, Steve Wozniak, David Alan Grier and Steve-O. Then, the winner of professional competition was announced and to guide a star next season is Anna Demidova.
After the short break, Lawrence Taylor danced the jive and Chuck Wicks did the samba. Then comedian Jeffrey Ross filled the night with his comments on the judges, host, and the three finalists. He called Gilles as "the unpronounceable", and made fun of his "Sex and the City" stint. He called Shawn "the underage" and said that ABC should send her to Disneyland if she wins. He called Melissa "the unwed" and said that it would be ironic if she finishes second like in "The Bachelor".
Continuing the eliminated dances, Lil' Kim reprised her Jailhouse Rock jive while Ty Murray was back with his Lindy hop. Then it was time for the final dance.
Shawn Johnson and Mark Ballas did the cha cha cha and the judges went crazy over it that she got straight 10s. With the score, her total combined score would be 88 out of 90.
Melissa Rycroft and Tony Dovolani did the samba. Similarly, the judges loved it and gave her 30 out of 30, meaning Melissa is pocketing 86 out of 90.
Gilles Marini and Cheryl Burke chose the Argentine tango and being the lauded couple all this long, they easily earned another 30. The total score that he got is 88 out of 90, making him in tie with Shawn.
The result was read shortly thereafter, and in the third place is Melissa Rycroft and Tony Dovolani. The runner-up is Gilles Marini and Cheryl Burke, meaning the winner is Shawn Johnson and Mark Ballas.