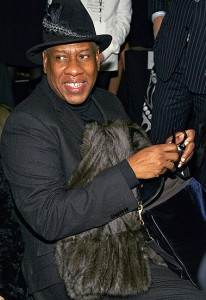 Cycle 14 of America's Next Top Model premieres on the CW on March 10 and the network has recently announced that Vogue's Andre Leon Talley will be joining the judge's panel.
According to the CW's press release:
Talley, who will join Tyra Banks, photographer Nigel Barker and a weekly guest judge on the judges' panel, is one of the fashion industry's most influential style-setters. Currently serving as the editor-at-large of Vogue, Talley is prominent in the world of designer fashion and has a front-row seat to runway shows all over the world.
Miss J. Alexander, long-time judge, breaks free from the judges' desk to take on a mentoring role during challenges with the models. "After cycles of watching the girls not get it right, I thought they would benefit more from my high heels' and hands-on approach than my sitting in a chair judging their photos," said Alexander. "And with Andre Leon Talley, this should be the best cycle yet."
To Read More Click Here.