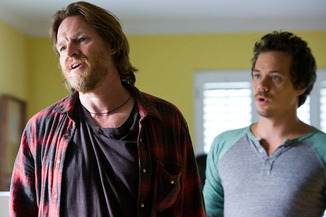 Obviously, pilot episodes have a lot of balls in the air. Good pilots have to set up the plot in the most broadest of ways. They have to present compelling characters who are interesting to watch. They have to create a sense of place that is worth enough to bring the audience back. And most importantly, it has to make you want to watch again (duh). Most of the time, a pilot will get two of those four things right, or sometimes halfway accomplish each of them. Only the really awesome pilots nail all four fairly handily. Terriers' pilot episode is such an example.
Nothing about Terriers is exceptionally original. It is surely inspired by the classic hard-boiled detective novel and the buddy cop film genre, plus any number of series where an ex-cop is trying to put his life back together. However, there's enough little tweaks to the formula and especially so much charm and heart in the lead characters Hank (Donal Logue) and Britt (Michael Raymond-James) that it doesn't even matter.
To Read More Click Here.