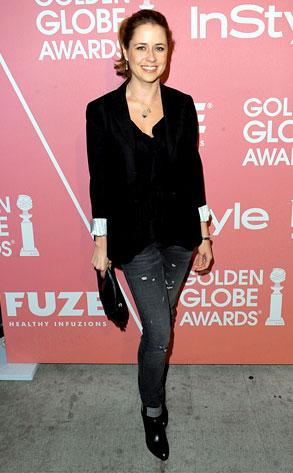 The Office's beloved Jim and Pam Halpert (John Krasinski and Jenna Fischer) will be welcoming a new addition to their family soon. But not until after the Olympics, natch.
When Pam finally gives birth on the Thursday night comedy, the little boy or girl may well be walking and talking already, because she's been pregnant since May already.
She's not even showing, really. At this rate, the kid will be born in mid-2011.
"Pam was originally due in February, but now the baby won't come until at least March," Jenna told E!, and you can blame the Olympics, airing February 12-28 on NBC.
The Winter Games will preempt The Office quotes (and babies) for a few Thursdays. Who cares about luge, ski jumping and bobsledding when you've got the Dundies?!