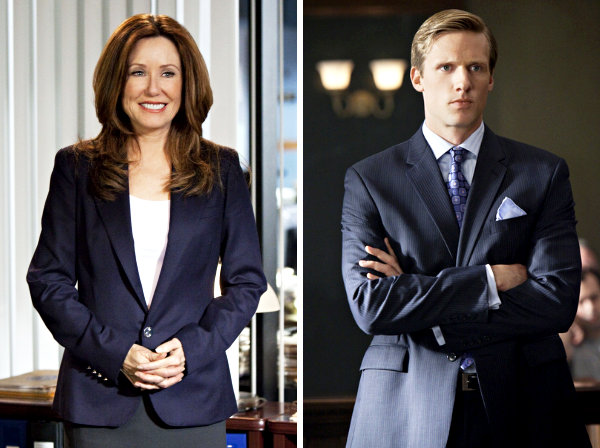 TNT releases two clips to promote its upcoming Monday line-up, "The Closer" and "Raising the Bar". The former will air at 9/8c with episode "Red Tape" while the latter takes over starting 10/9c with "The Curious Case of Kellerman's Button".
In "Red Tape", Sgt. Gabriel shoots a murder suspect he is certain is armed and firing at him, but the evidence does not match up with his account. Enter Capt. Sharon Raydor (special guest star Mary McDonnell), the head of the Force Investigation Division, whose responsibility is to investigate the shooting. But Raydor's investigation is interfering with Brenda's investigation into the murder, which may have been ethnically motivated.
In "Curious", Jerry gets into a heated conflict with Judge Farnsworth after the jurist punishes a client for Jerry's tardiness. But Jerry is determined to have the last word with a scheme that makes Farnsworth the victim of his own rigid, by-the-book procedures. Roz and Richard team up to defend a young African-American man accused of committing a hate crime against a gay man. Marcus is determined not to plead out the hate crime, especially when his new, politically connected girlfriend puts him in a difficult position with Balco.