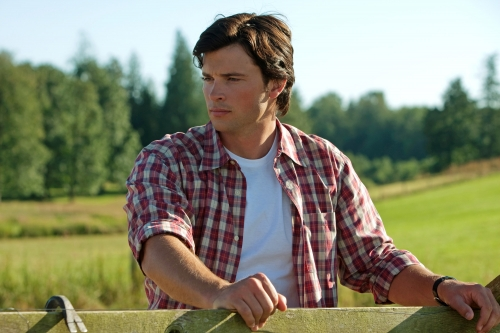 The Biblical references went full out in the finale and tenth season opener of SMALLVILLE, called Lazarus. Opening seconds after last season's finale, teetering between life and death, Clarke comes upon a cross and his father's gravestone in the midst of a corn field.
Jor-El admonishes Jesus Clark, for taking the martyrs path instead of standing to fight the evil. He warns him that a team of superheroes is not enough. Just as Lois pulls the blue kryptonite stake out of his chest, just as he is about to return firmly to life, he catches a glimpse of Lex Luthor. Oh yeah, you know it. Lois quickly hides herself before Clarke awakens and takes a really cool pose.
Clarke goes to Chloe to find out more about Lex, and she points him in the direction of the Daily Planet, where Lois is checking up on Clarke's superhero past. She tells him they have to talk in the barn. Later.
Chloe has left Watchtower and has arrived at I dunno, the Last Supers? Heh. (That was a pun. Geddit? I know. I'm a comedian.) in order to find Oliver she dones a gold glowing talking helmet which knocks her out.
To Read More Click Here.