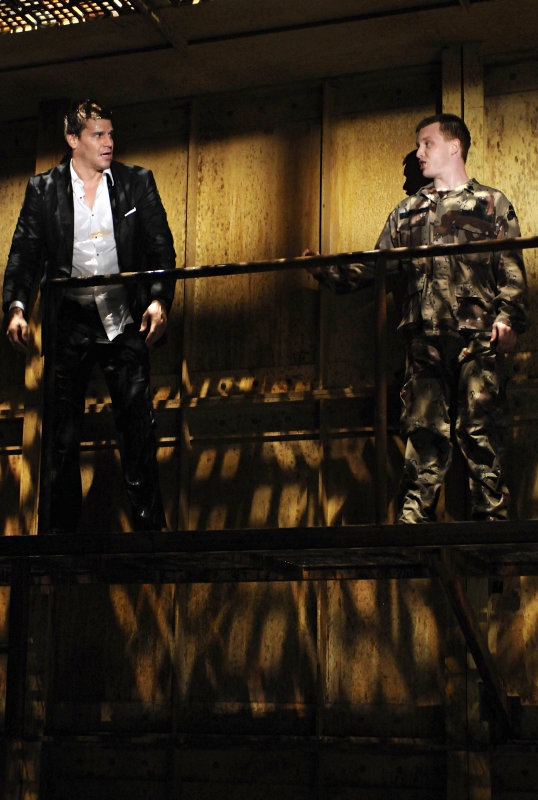 As many as five clips are released in preview of the February 5 episode of "Bones". Called "The Hero in the Hold", it will see Booth being kidnapped and the rest of the team trying to resolve the case before Booth runs out of time to breathe.
When Brennan, Hodgins and author Thomas Vega are summoned by a Federal Judge along with the United States Attorney regarding the ongoing investigation of the Grave Digger, they learn that evidence from the case has recently gone missing. With Brennan and Hodgins having been victims of the Grave Digger and Thomas Vegas currently writing a book about it, they become prime suspects in the missing evidence case.
However, when Brennan and the team receive a phone call from the Grave Digger informing them that Booth has been buried alive with only 24 hours worth of oxygen, the Grave Digger threatens to leave him to die unless Brennan brings the missing evidence.
The team immediately goes to Booth's apartment to assess the crime scene, knowing from Sweets' psychological assessment of the Grave Digger that they cannot tell the authorities about the situation or else the Grave Digger will retaliate against Booth. As Booth struggles to free himself from confinement, the team joins forces to locate him with precious time ticking away.
For Clip 1 Click Here.
For Clip 2 Click Here.
For Clip 3 Click Here.
For Clip 4 Click Here.
For Clip 5 Click Here.