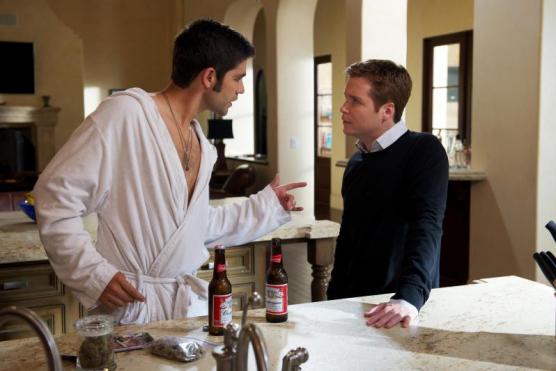 For the second week in a row, the witty men behind Entourage named the episode after cocaine with our favorite title of the season, Sniff Sniff Gang Bang. Instead of combining coke with tequila, this week they did it with a little gang bang courtesy of Sasha Grey.
So outside of a fantastic title, what did we think of the actual episode? After two strong episodes, including some Sloan side boob, we were a little disappointed with this week's installment.
Vince's downward spiral seems almost as forced as Sasha Grey's acting. No wonder the legitimate acting gigs are not pouring this girl's way -- she can barely play herself. Go do the gang bang and break up with our Air Walker.
Sorry, random Sasha rant over. Where were we? Oh yes, Vince's forced spiral. So, we've gone from adrenaline junkie to a drug addict that's suddenly standing up to everyone from E to Dana Gordon. That's not our bland, spineless blob we've come to love.
To Read More Click Here.