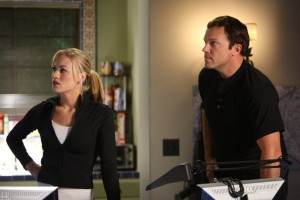 In case you missed the recap of the Chuck premiere's first hour, "Chuck vs. the Pink Slip," check it out here.
"Three Words" started with a reintroduction of Carina, played by Mini Anden. She is an undercover DEA agent, and one of Sarah's best friends. With that out of the way, the episode proper began with a guy carrying a gold case being pursued through the woods. He is eventually shot by Karl Stromberg, a British neerdowell played by Vinnie Jones. As he is about to end the runner's life, he receives a call from his "Smoochie." Funny words from a dangerous man.
We then see Sarah out at a bar on a rare night off with Carina. Sarah doesn't want to talk about work, but Carina continues to bring up Chuck and how Sarah is into him, which Sarah denies. Carina then introduces her fiancee who has just arrived. It's none other than Karl; Carina is his Smoochie. Meanwhile, Chuck and Morgan are sitting in their bare apartment. Morgan encourages Chuck to shake off his malaise and go out. Chuck begrudingly agrees, and the two make their way to the same bar (Burbank has only one swanky bar?). When Chuck sees Sarah, Carina and Karl, he flashes on Karl as an international arms dealer. Chuck informs the lady spies of his flash, but duh!, of course Carina knows he's an arms dealer: Karl is her mark (btw, why is the DEA going after an arms dealer? Shouldn't that be ATF's job?).
To Read More Click Here