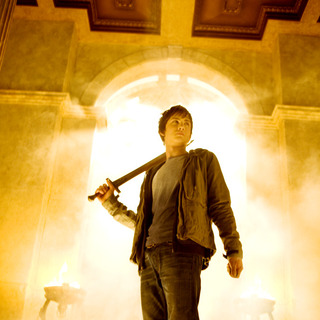 Fox 2000 Pictures has shared another sneak peek to "Percy Jackson & the Olympians: The Lightning Thief", bringing out the battle scenes. In a new clip titled "Hydra", Percy Jackson is seen releasing his power to get rid the ugly creature which tries to attack him and his friends with its fire breath.
Set in the 21st century, the film follows 12-year-old student, Percy, who discovers that he is the demigod son of the Greek god, Poseidon. He later learns that the legendary beings of Greek mythology still exist in Mount Olympus which is located on the mythical 600th floor of the Empire State Building.
Being one of the "Big Three" children, he is frequently put under attack by monsters. Along with some friends, he goes on an adventure of a lifetime as he embarks on a journey across modern-day America to save his mother, return Zeus' stolen lightning bolt, and prevent a war between the gods.
Coming out from Chris Columbus, the man behind the first three "Harry Potter" films, "Percy Jackson & the Olympians: The Lightning Thief" has Logan Lerman starring as the titular character. He is joined by Pierce Brosnan, Rosario Dawson and Uma Thurman among many others. This fantasy movie is set to hit U.S. theaters on February 12.