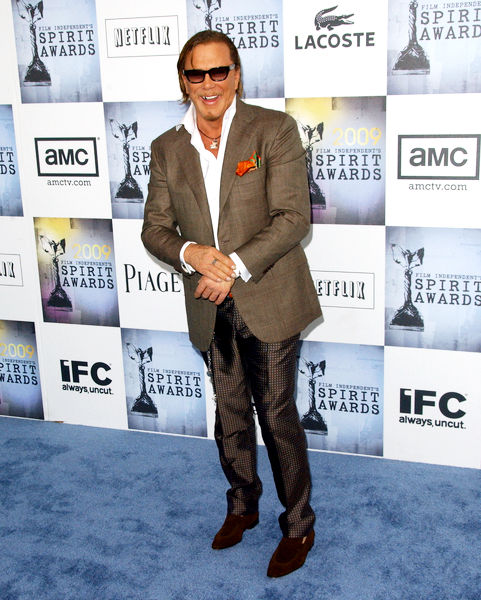 While little is known of Whiplash, Mickey Rourke has once again opened up about his villainous character in "Iron Man 2". Following his discussion about the Russian baddie's suit, the Oscar-nominated actor took it to The Guardian to unveil more of what he has done to portray the Tony Stark's nemesis.
"I decided to do half my role in Russian and that's hard because the Russian language doesn't roll off the English-speaking tongue very easily," the 55-year-old gushed. "I spent three hours a day with a teacher, and after two weeks I know four sentences! Let me see, it's sort of like... 'Yezzamee menya... Yezzamee manya obott... Er, nemaboootty menya...'"
The star of "The Wrestler" moreover explained what the meaning behind his Russian lines is. "It means," he described, "If someone kills me, don't wake me up, because I'd rather be dead than live in your world."
Previously, Rourke has told Empire Online about what it feels like filming for the "Iron Man" sequel. "It's been really brutal, because my Iron Man suit weighs 23lb," he shared, before going on detailing on the suit itself. "It's sort of a half-suit, with half my skin showing, with lots of Russian tattoos, because [Whiplash is just] out of a Russian-zone prison."
Directed by Jon Favreau, "Iron Man 2" stars once again Robert Downey Jr. and Gwyneth Paltrow as Tony Stark/Iron Man and Pepper Potts. Don Cheadle will take on Colonel James 'Rhodey' Rhodes in place of Terrence Howard, while Scarlett Johansson will portray Black Widow and Samuel L. Jackson is set for Nick Fury. This superhero film will open in U.S. theaters on May 7, 2010.